Previous Edition of the 20th Fifa world cup 2014 was played in Brazil. All the 64 Matches wre played in 12 venues of Brazil from 12 june to 13 july 2014. Germany is the winners of 2014 Football world cup as they beat the Argentina in extra time with 1-0 score.
Steps to Watch Football World cup Online
Get a trusted VPN for Football. Go with ExpressVPN (49% off on annual plan)
Connect to the US Server
Go to ESPN+ or ESPN Apps or go to Fubo TV
Start watching Football! 
Note : Finding Any difficulty to Watch soccer online kindly contact support person via live Chat or Email.
Check out below the Day by Day all 64 Matches of Brazil world cup 2014 Results.
First Round
Thursday, June 12
Brazil 3, Croatia 1 at Arena Corinthians, Sao Paulo
Friday, June 13
Mexico 1, Cameroon 0 at Estadio das Dunas, Natal
Netherlands 5, Spain 1 at Arena Fonte Nova, Salvador
Chile 3, Australia 1 at Arena Pantanal, Cuiaba
Saturday, June 14
Colombia 3, Greece 0 at Estadio Mineirao, Belo Horizonte
Uruguay 1, Costa Rica 3 at Estadio Castelao, Fortaleza
Italy 2, England 1 at Arena Amazonia, Manaus
Ivory Coast 2, Japan 1 at Arena Pernambuco, Recife
Sunday, June 15
Switzerland 2, Ecuador 1 at Estadio Nacional Mane Garrincha, Brasilia
France 3, Honduras 0 at Estadio Beira-Rio, Porto Alegre
Argentina 2, Bosnia-Herzegovina 1 at Estadio do Maracana, Rio de Janeiro
Monday, June 16
Germany 4, Portugal 0 at Arena Fonte Nova, Salvador
Iran 0, Nigeria 0 at Arena da Baixada, Curitiba
United States 2, Ghana 1 at Estadio das Dunas, Natal
Tuesday, June 17
Belgium 2, Algeria 1 at Estadio Mineirao, Belo Horizonte
Brazil 0, Mexico 0 at Estadio Castelao, Fortaleza
Russia 1, South Korea 1 at Arena Pantanal, Cuiaba
Wednesday, June 18
Netherlands 3, Australia 2 at Estadio Beira-Rio, Porto Alegre
Chile 2, Spain 0 at Estadio do Maracana, Rio de Janeiro
Croatia 4, Cameroon 0 at Arena Amazonia, Manaus
Thursday, June 19
Colombia 2, Ivory Coast 1 at Estadio Nacional Mane Garrincha, Brasilia
Uruguay 2, England 1 at Arena Corinthians, Sao Paulo
Japan 0, Greece 0 at Estadio das Dunas, Natal
Friday, June 20
Costa Rica 1, Italy 0 at Arena Pernambuco, Recife
France 5, Switzerland 2 at Arena Fonte Nova, Salvador
Ecuador 2, Honduras 1 at Arena da Baixada, Curitiba
Saturday, June 21
Argentina 1, Iran 0 at Estadio Mineirao, Belo Horizonte
Germany 2, Ghana 2 at Estadio Castelao, Fortaleza
Nigeria 1, Bosnia-Herzegovina 0 at Arena Pantanal, Cuiaba
Sunday, June 22
Belgium 1, Russia 0 at Estadio do Maracana, Rio de Janeiro
Algeria 4, South Korea 2 at Estadio Beira-Rio, Porto Alegre
United States 2, Portugal 2 at Arena Amazonia, Manaus
Monday, June 23
Netherlands 2, Chile 0 at Arena Corinthians, Sao Paulo
Spain 3, Australia 0 at Arena da Baixada, Curitiba
Mexico 3, Croatia 1 at Arena Pernambuco, Recife
Brazil 4, Cameroon 1 at Estadio Nacional Mane Garrincha, Brasilia
Tuesday, June 24
Uruguay 1, Italy 0 at Estadio das Dunas, Natal
Costa Rica 0, England 0 at Estadio Mineirao, Belo Horizonte
Colombia 4, Japan 1 at Arena Pantanal, Cuiaba
Greece 2, Ivory Coast 1 at Estadio Castelao, Fortaleza
Wednesday, June 25
Argentina 3, Nigeria 2 at Estadio Beira-Rio, Porto Alegre
Bosnia-Herzegovina 3, Iran 1 at Arena Fonte Nova, Salvador
Ecuador 0, France 0 at Estadio do Maracana, Rio de Janeiro
Switzerland 3, Honduras 0 at Arena Amazonia, Manaus
Thursday, June 26
Germany 1, United States 0 at Arena Pernambuco, Recife
Portugal 2, Ghana 1 at Estadio Nacional Mane Garrincha, Brasilia
South Korea 0, Belgium 1 at Arena Corinthians, Sao Paulo
Algeria 1, Russia 1 at Estadio Beira-Rio, Porto Alegre
Round of 16
Saturday, June 28
Brazil 1, Chile 1 at Estadio Mineirao, Belo Horizonte (Brazil wins 3-2 on penalties)
Colombia 2, Uruguay 0 at Estadio do Maracana, Rio de Janeiro
Sunday, June 29
Netherlands 2, Mexico 1 at Estadio Castelao, Fortaleza
Costa Rica 1, Greece 1 at Arena Pernambuco, Recife (Costa Rica wins 5-3 on penalties)
Monday, June 30
France 2, Nigeria 0 at Estadio Nacional Mane Garrincha, Brasilia
Germany 2, Algeria 1 in extra time at Estadio Beira-Rio, Porto Alegre
Tuesday, July 1
Argentina 1, Switzerland 0 in extra time at Arena Corinthians, Sao Paulo
Belgium 2, United States 1 in extra time at Arena Fonte Nova, Salvador
Quarterfinals
Friday, July 4
Germany 1, France 0 at Estadio do Maracana, Rio de Janeiro
Brazil 2, Colombia 1 at Estadio Castelao, Fortaleza
Saturday, July 5
Argentina 1, Belgium 0 at Estadio Nacional Mane Garrincha, Brasilia
Netherlands 0, Costa Rica 0 at Arena Fonte Nova, Salvador (Netherlands wins 4-3 on penalties)
Semifinals
Tuesday, July 8
Germany 7, Brazil 1 at Estadio Mineirao, Belo Horizonte
Wednesday, July 9
Argentina 0, Netherlands 0 at Arena Corinthians, Sao Paulo (Argentina wins 4-2 on penalties)
Third-Place Game
Saturday, July 12
Netherlands 3, Brazil 0 at Estadio Nacional Mane Garrincha, Brasilia
Final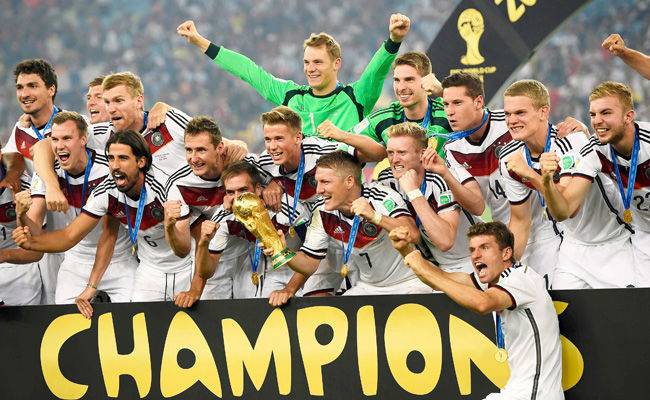 Sunday, July 13
Germany 1, Argentina 0 in extra time at Estadio do Maracana, Rio de Janeiro
Watch World cup Live with ExpressVPN
Easy set up
30-day money back guarantee 
 Save 49%
Watch Football World cup live with #1 VPN
We may earn commission from buying our links. For the record, This Website does not condone copyright violation with the help of a VPN as we promotes online privacy and security afforded by Virtual Private Networks