Fifa World cup is one of the most watch Football Tournament around the world thus Fifa has given the broadcasting right to majority of the countries to their TV channels and Radio Broadcaster. Upcoming 21st Edition of Fifa World cup 2018 will be host by Russia and this is the first time russian country hosted this football world cup. This Russia WC 2018 Schedule of Group stage and Knockout round are already released so as per fixtures of World cup 2018 its play from the 14 June to 15th july in the period of 32 days in various stadium of Russia.
Good news for the Soccer fans as You can see the all 64 world cup Matches live on your TV – Television set as Fifa has sold their broadcasting rights to worldwide countries to several television channel. Here on this article we have created the list of TV channels with the country name where you can Watch 2018 Fifa world cup Live stream and hassle free TV coverage from russia.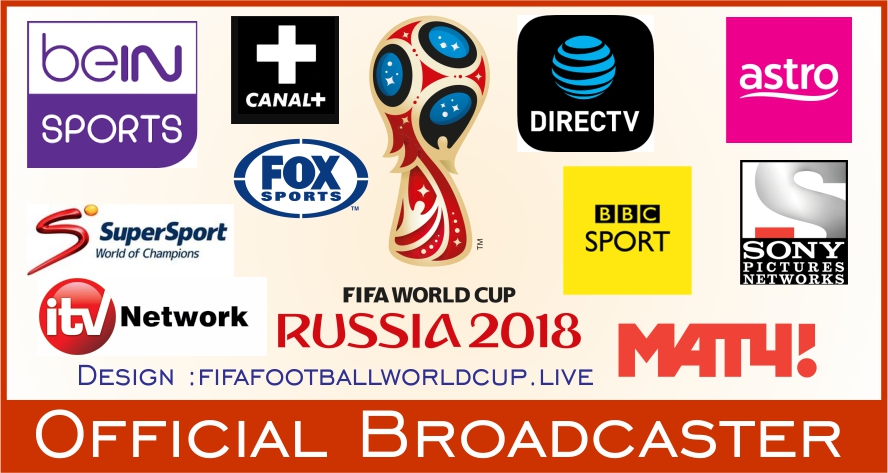 For the Fifa World cup Events Many TV channels and Various TV Broadcasting Network has bought the digital Telecast rights to shown all 64 Matches coverage in Mobile phone, Desktop PC, Laptop, and Tablet. They will be show Fifa world cup Live streaming 2018 of All 64 Games through their websites or app via internet. So check out below list.
FIFA WORLD CUP 2018 BROADCASTING RIGHTS, TV CHANNELS DETAILS
COUNTRY
BROADCASTER
 Albania
RTSH

 

Algeria
EPTV

 

Argentina
El Trece, Telefe, América TV, Canal 9, TV Pública, TyC Sports, Torneos, DirecTV

 

Armenia
ARMTV

 

Australia
SBS, Optus Sport

 

Austria
ORF

 

Azerbaijan
İTV

 

Belarus
BTRC

 

Belgium
VRT, RTBF

 

Bolivia
Unitel, Red Uno, DirecTV
Bosnia and Herzegovina
BHRT

 

Brazil
Globo, Band, SporTV, BandSports

 

Brunei
Astro

 

Bulgaria
BNT

 

Canada
CTV, RDS, TSN

 

Chile
Canal 13, TVN, Mega, DirecTV, Fox Sports

 

China
CCTV

 

Colombia
Caracol TV, RCN TV, DirecTV

 

Costa Rica
Teletica, Sky, Movistar

 

Cuba
Tele Rebelde

 

Croatia
HRT

 

Cyprus
CyBC

 

Czech Republic
ČT

 

Denmark
DR, TV 2

 

Ecuador
RTS, DirecTV

 

El Salvador
TCS, Sky

 

Estonia
ERR

 

Faroe Islands
DR

 

France
TF1, beIN Sports

 

Germany
ARD, ZDF

 

Georgia
GPB

 

Greenland
DR, TV 2

 

Guatemala
Radio Televisión Guatemala, Sky

 

Honduras
Televicentro, Sky

 

Hong Kong
Now TV, Viu TV

 

Hungary
MTVA

 

Iceland
RÚV

 

Iran
IRIB

 

India
Sony Pictures Networks on Sony Six / Sony Ten / Sony ESPN channel

 

Indonesia
RTV, OrangeTV

 

Ireland
RTÉ

 

Israel
KAN

 

Kosovo
RTK

 

Latvia
LTV

 

Liechtenstein
SRG SSR

 

Lithuania
LRT

 

Macau
TDM

 

Malaysia
Astro, RTM

 

Malta
PBS

 

Mexico
Televisa, TV Azteca

 

Moldova
TRM

 

Montenegro
RTCG

  

Nepal
Sony Pictures Networks

 

Netherlands
NOS

 

New Zealand
Sky Sport

 

Nicaragua
Ratensa, Sky

 

Norway
NRK, TV 2

 

Philippines
PTV

 

Pakistan
Sony Pictures Networks

 

Panama
Corporación Medcom, Televisora Nacional, Sky

 

Paraguay
Telefuturo, SNT, Red Guaraní, RPC, Tigo Sports, Torneos, DirecTV

 

Peru
Latina Televisión, DirecTV

 

Poland
TVP

 

Portugal
RTP

 

Romania
TVR

 

Russia
Match TV

 

Serbia
RTS

 

Singapore
Singtel TV, Starhub TV

 

Slovenia
RTVSLO

 

South Africa
SABC, SuperSport

 

South Korea
SBS

 

Sweden
SVT, TV4

 

Switzerland
SRG SSR

 

Turkey
TRT

 

United Kingdom
BBC, ITV

 

United States
Fox, Telemundo,Fox Sports 1,Fox Sports 2,NBC Universo

 

Uruguay
Monte Carlo TV, Canal 10, Teledoce, Torneos, DirecTV

 

Venezuela
Venevisión, DirecTV
Fifa world cup 2018 Broadcaster of Caribbean Countries / Territories
Direct TV will provide Fifa 2018 live tv coverage in 22 Caribbean countries Which are Antigua & Barbuda, Anguilla, Aruba, Bahamas, Barbados, Belize, British Virgin Islands, Cayman Islands, Curaçao, Dominica, Dominican Republic, Grenada, Guyana, Haiti, Jamaica, Montserrat, St. Lucia, St. Kitts & Nevis, St. Vincent & the Grenadines, Suriname, Trinidad & Tobago and the Turks and Caicos
This DirectTV channel will also live telecast of 2018 Fifa World cup All 64 Matches in 17 Latin America countries of Paraguay, Peru, Uruguay, Honduras and Venezuela and more.
Also see : List of Football World cup Winners 
 Fifa world cup 2018 Broadcaster of Middle East and north Africa Countries
FIFA Deal with popular TV channel of beIN Sports for 24 Arab nations to show the 14 June to 15th July All Fifa Football matches live in these countries of Algeria, Bahrain, Comoros, Djibouti, Egypt, Iran, Iraq, Jordan, Kuwait, Lebanon, Libya, Mauritania, Morocco, Oman, Palestine, Qatar, Saudi Arabia, Somalia, South Sudan, Sudan, Syria, Tunisia, United Arab Emirates and Yemen.
Fifa world cup 2018 Broadcaster of Indian sub-Continent Countries
Sony Pictures Networks Officially broadcast the Football world cup 2018 All Matches Live in India & sub continent countries of Bangladesh, Bhutan, India, Maldives, Nepal, Pakistan and Sri Lanka. All this Indian Sub continent soccer fans enjoy the Fifa World cup 2018 live on Sony ESPN / Sony Six / Sony Ten 1 / Sony Ten 3 – HD channel from the 14th June to 15th July 2018.
Fifa world cup 2018 Broadcaster of Oceania Countries/Territories
Sky Pacific TV channels will be provide the All football Matches of Fifa world cup live action in Oceania Countries of Cook Islands, Fiji, Kiribati, Micronesia, Nauru, Palau, Papua New Guinea, Samoa, Solomon Islands, Tonga, Tuvalu, Vanuatu
Fifa world cup 2018 Broadcaster of sub-saharan AFrica countries
African Countries like  Angola, Benin, Botswana, Burkina Faso, Burundi, Cameroon, Cape Verde, Central African Republic, Chad, Congo, Côte d'Ivoire, DR Congo, Equatorial Guinea, Eritrea, Ethiopia, Gabon, Gambia, Ghana, Guinea, Guinea-Bissau, Kenya, Lesotho, Liberia, Madagascar, Malawi, Mali, Mauritius, Mozambique, Namibia, Niger, Nigeria, Rwanda, Senegal, Seychelles, Sierra Leone, Swaziland, Tanzania, Togo, Uganda, Zambia, Zimbabwe Fans can Enjoy the Russia World cup All 64 Football Games live coverage and telecast on Supersports, Kwese Sports, Canal+ & Startimes Channels.
A part of the TV Broadcaster Fifa has also given the Telecast rights to Radio Broadcaster. for that kindly visit Fifa World cup 2018 Radio Broadcaster List.
All the above information are taken from the wikipedia.
Recent search terms:
television broadcasting rights for fifa world cup 2018
fifa world cup 2018 channels in tanzania shown all match
channel 927 sony tv coverage of world cup soccer 2018
broadcast right for worldcup 2018
astro & rtm fifa 2018 russia
argentina vs italy today match broadcasting channels in india
argentina vs italy today match broadcasting channels
are fifa friendly broadcasting in india
फीफा वर्ल्ड कप २०१८ ब्रॉडकास्ट इन इंडिया व्हिच टीवी चैनल्स हिंदी में time teble
2018 world cup broadcasting rights